Wildland Fire Safety Training Annual Refresher (WFSTAR) is also referred to as Rt-130 since that is the National Wildfire Coordinating Group(NWCG) class number.
Cal OES mandates all personnel operating behind road closers as fire support personnel in the path of the fire follow the NWCG standards.
Animal Fire Rescue trains personnel to the NWCG Standard because animals that are in the greatest danger are in the path of the Fire.
Loading animals takes time and a team that is trained in safety can recognize how long it is safe to stay and Evac the animals. When personnel are confident in their training they remain calm and perform more efficient and will ultimately save more animals.
Below is an article highlighting one of Animal Fire Rescue Rt-130 Trainings.
Animal Fire Rescue offers this training free of charge to organizations like SDHS and DAS. SDG&E helps cover some of the costs of these trainings through a community grant that they provide to Animal Fire Rescue specifically for the Rt-130 class.
The article below is titled animal and human retrieval. One of the parts of Rt-130 is to train rescues how to self rescue in case a member of the rescue team is injured while working a Wildland Fire.
Rescuers train for animal, human retrieval
By Jessica Brodkin Webb01041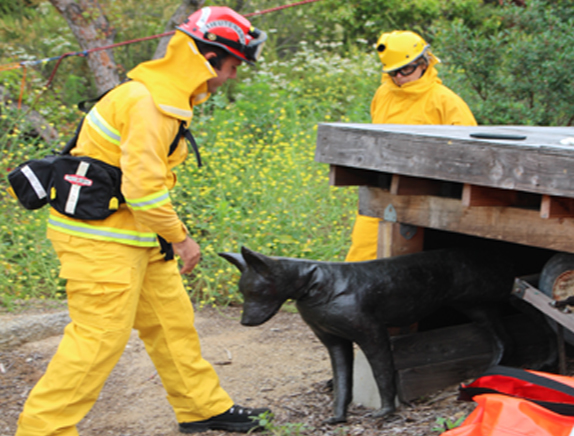 San Diego Humane Society, San Diego County Department of Animal Services, and local volunteer firefighters joined forces for Animal Fire Rescue Training on June 22 under the direction of former Idyllwild Firefighter Ken Gilden, 51, who is currently serving as vice president of the Greater Alpine Fire Safe Council.
According to San Diego County Animal Control Officer D.J. Gove, agencies that train together are better prepared for fire-related emergencies.
"I'm in charge of the disaster team and we try to train together so we can call on each other. It's a better use of resources. During an event the resources aren't necessarily there, so we need to be very self-sufficient," said Gove.
Training on Saturday ran in three groups: one that practiced personnel extraction with Gilden; a second group that practiced deploying emergency shelters with retired Cal Fire Capt. Jon Winslow; and a third group that explored animal rescue techniques with San Diego Humane Society lieutenant John Peaveler.
Gilden squatted among the responders in the first training group to demonstrate how to initially tie a downed person to a stabilizing board and then attach that board to a Stokes basket—used for transporting the training dummy—offering guidance as he explained the half-hitches used to keep the training dummy safely tied to both the board and basket.
Responders then worked together to attach the Stokes basket to an extension ladder and extract the entire rig to a safe area so the injured individual could receive medical treatment. Gilden continued the training as the group walked in unison, instructing them to carry the rig head-first down a slight incline.
Training alongside Gilden's group, Winslow led responders as they practiced deploying emergency fire shelters made of fire retardant material and used as a last resort in case of a burn over situation, each time trying to outpace their previous time.
With volunteers circled around the pavement, the group repeatedly folded themselves into thin yet protective sacks that offer some amount of protection, while Winslow explained intelligent positioning of the shelters: deliberate placement of the shelters based upon the terrain and natural conditions, and the importance of taking shelter where fire is less likely to cross.
The third group worked specifically on techniques for animal control and removal, with Peaveler illustrating the difference between protective gloves with extra panels that are designed to give angry dogs some¬thing to bite besides the hands of a human trying to help them, and gloves made from materials that are impervious to cat bites or scratches, explaining that good dexterity can mean less protection.
He also demonstrated how tools that are designed for use with different animals can be modified, such as using a pinning tool originally designed for wolf control in a dog situation.
"Remember, movement is somewhat psychological and if an animal bites but we don't lean in then they have to stop and think about what to do next, which gives us time to act. Sometimes, we just need to keep their mouth busy so we can safely slip a rope over their head… Also, if you've got a down deer, cow or horse you can get head control," Peaveler said.
Within that same group, responders practiced using a Halligan bar to pry open doors (in this case, simulated by wooden pallets) without destroying the entryway.
Peaveler said that the most important thing that any animal owner can do to help save their animals in case of fire is to evacuate early if faced with a major fire situation.
"Our number one message for the community is that everyone needs to have a plan for an emergency. Evacuate early, don't wait. We're not all firefighters but we try to understand fire behavior, when and where to proceed and the harsh reality is that a lot of our work is in the black, after the fire. We will rescue where we can, but please, evacuate early," Peaveler said.